Years 11 – 12
The Senior Years learning environment encourages senior students to develop independence, self-confidence and responsibility for their own learning and behaviour.
The Senior Years Programs available at the College include:
The Victorian Certificate of Education (VCE)
The Victorian Certificate of Education (VCE VM) Vocational Major
As part of either programs, students may also complete a VET (Vocational Education and Training) course.
For VCE, satisfactory completion of a minimum of 16 total units of which:
Three units from the English group with two being a Unit 3-4 Sequence.
Three other Sequences of Unit 3-4 (6 units). To support students to meet the minimum requirements and achieve their best at Mill Park Secondary College:
All VCE students in Year 11 must undertake six VCE subjects (12 units).
In Year 12, all students must undertake five VCE subjects regardless of how many Unit 3 & 4 sequences they have already completed (10 units).
Students at Mill Park Secondary College can choose from the most comprehensive range of VCE and VET units in the northern suburbs of Melbourne.
More than 50 units are offered. Students can complete a full VCE Program or a VCE Program mixed with some VET Units. 
VCE and VET subjects offered at the College: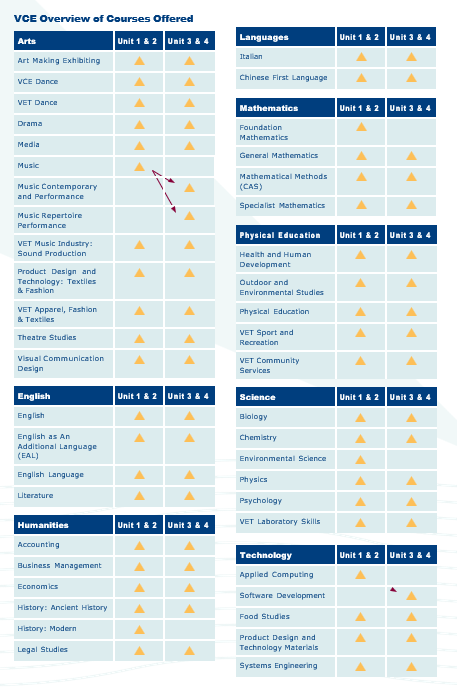 VET Units
VET Course
VET Dance
VET Music Industry: Sound Production
VET Applied Fashion, Design & Technology
VET Sport & Recreation
VET Community Services
VET Laboratory Skills